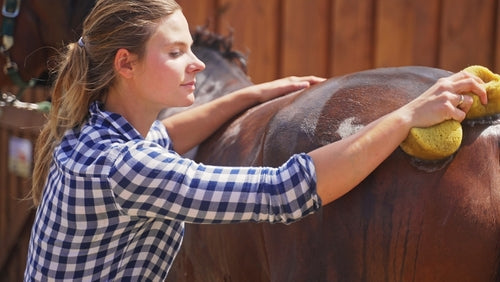 How to properly wash your horse
Giving your horse a bath should be a fun and relaxing time for you and your horse. Start with good habits and a plan for best results.
1. Gather your supplies: horse wash shampoo, a stiff brush, a soft brush, a comb, and a sweat scraper.
2. Prepare the horse. Make sure that the horse is securely tied and standing on a level surface in a shaded area.
3. Brush the horse. Use a stiff brush to remove any mud, dirt, and small tangles from the horse's coat.
4. Comb out the long hair on the mane and tail.
5. Wet down the horse. Use a hose with lukewarm water to wet down the horse. Start at the top and work your way down.
6. Create a lather. Apply horse wash shampoo to the horse's coat and create a lather. Rub the lather into the coat.
7. Rinse off the horse. Use a hose to rinse off the lather and any dirt, mud, or debris from the horse's coat.
8. Use a soft brush. Brush the horse's coat with a soft brush, making sure to remove any remaining dirt or debris.
9. Use a sweat scraper. At the end of the bath, use a sweat scraper to remove any excess water from the horse's coat.
10. Dry the horse. Use a cloth or towel to dry the horse's coat. Make sure to give special 
White spots at the withers are a sign of poor fitting saddles.
A few tips to keep in mind.
1. Make sure the water is warm but not hot, especially during cold weather 
2. If possible, use a natural-bristled brush; never use metal brushes on sensitive areas
3. Take care to rub shampoo thoroughly into the coat to ensure proper cleaning
4. Dilute shampoo when washing around the horse's face; use special horse shampoo that is designed for facial skin 
5. Work from top to bottom when washing, brushing, and drying; this will help you to remove dirt and debris more efficiently 
6. Move quickly when working near sensitive areas; the horse may become uncomfortable if you linger too long 
7. Always rinse off the soap with clean, lukewarm water 
8. Avoid getting water in the horse's eyes, nasal passages, or ears while washing 
9. Make sure to cover any open sores or wounds with a waterproof bandage 
10. Provide plenty of blankets or coats/rugs to keep the horse warm after the bath   
Question: Can you use people shampoo on a horse?
Answer: No, it is not safe to use people shampoo when washing a horse. Human shampoo is typically too harsh for a horse's skin and may cause irritation and allergic reactions. It is better to use shampoo specifically formulated for horses. 
Question: How do I clean a males horse's sheeth?
Answer: When cleaning the sheath area of a horse, be sure to wear protective gloves to protect your hands from any bacteria under the sheath. If your horse is wearing a leather saddle, also be sure to remove it and any protective sheeting before cleaning. Use a bucket or hose with water to wet the area and apply a mild, pH balanced, non-staining cleaner. Gently scrub the sheath using a soft cloth or sponge. Be sure to rinse with clean, lukewarm water afterwards. 
Question: How do you clean a horse's ears?
Answer: When washing a horse's ears, it is important to handle the ears carefully and avoid getting soap or water in the ear canal. First, use a damp cloth to wipe away dirt and debris from the outside of the ears. Then, carefully massage the inside of each ear with a warm damp cloth. Avoiding getting water directly in the ears. The whole process should be done gently and with caution.